Mickey & Stitch Subaru Promotional Dish Set
Originally uploaded by tikistitch
Posted this to Flickr a couple days back and then kinda got busy and forgot to make note of it. What it is, it's basically some kind of promotional dish set from the Japanese car maker, Subaru, that features Mickey Mouse and Stitch, who's (for some reason) dressed up in a cow outfit.
One of the exciting things for a foreigner with little grasp of English bidding on Yahoo Japan auctions is that you never quite know what to expect. To be clear, I've only very rarely been disappointed (with far less frequency than when buying thing on, say, eBay), but between the sometimes minimally useful translation programs and the tendency of Yahoo J sellers to keep descriptions to a Zen-like minimum ("Kindly do not ask for a return, as it will disappoint our ancestors"), YOU NEVER KNOW WHAT YOU GONNA GET.
In this case, I can recall no mention that this set was actually nice, heavy ceramic dishes (I had expected some kind of crappy plastic, which is what you'd probably get if this was an American car company). It's got big and small plates of Stitch and Mickey, plus some tea cups.
I'm not quite sure what this promotion is about, or how long it's lasted, but I'll try and root around for some more Stitch subaru items I've picked up - there's been a lot of stuff.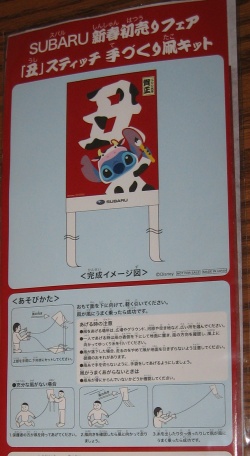 UPDATE: Found a couple more things: a Subaru Stitch mousepad, and a kite with cow Stitch. The kite is from last year, and it's fairly awesome. If I were a kid, I would totally make my parents buy and Impreza to get a kite like that!