Girls Day, a/k/a Hinamatsuri, is a really keen Japanese festival. It is keen because there are pretty pretty dollies! My understanding is that this originated with the belief that you could cast off bad spirits by sticking some dollies in a boat and casting them off to sea. Seems like in modern Japan, though, much of the observation involves setting up elaborate displays of dollies.
Kind of fun that a mischievous spirit like Stitch would get involved in the fun, but there have been several Disney-issued hinamatsuri toys now that include our little alien friend. Pictured above is the Stitch an Angel set the Disney Store in Japan is featuring this year. But, I wanted to put up a few pix of some of the other Hinamatsuri Stitchiana I've collected in recent years.
More on the flip....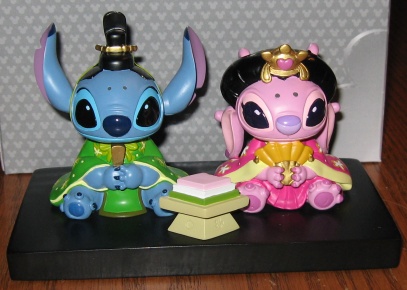 Here's the Disney Store's Stitch and Angel set from last year. The dolls in the set are pretty standardized, so in this case, Stitch and Angel get a place at the top, as king and queen.

This is a pretty lively set (the poses are very non-traditional) that I believe was available at Tokyo Disneyland last year.

This was a pretty elaborate set, also from Tokyo Disneyland last year, that features many, many Disney characters. As you can see, Stitch has been kicked off his throne to be a bit player.

Cute, huh?

They don't only do ceramic pieces.

These are a pair of huuuuuuge UFO catcher prizes with Stitch and Angel as the Emperor and Emperess.

And in this set, Stitch and Angel even have a cute little box!! This was also probably a crane machine prize.